Do You Have A Mobile Strategy?
Mobile App Development Services To Transform Your Business
As you know, the businesses that enjoy long-term, lasting success are those that are able to adapt and embrace improvements in technology. Today, this means accepting that mobile app design services are vital resources for any business.
With the number of consumers using smartphone apps in the millions and on the rise, it is becoming increasingly important for businesses to have a presence on the mobile web. Smartphone users are becoming more and more dependent on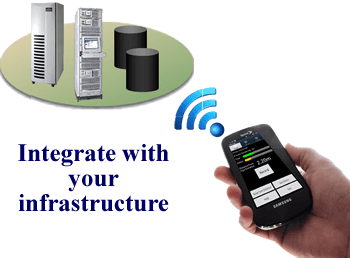 these devices for throughout their day-to-day activities, and your company can greatly benefit from this trend.
Engage Directly with Customers Using Custom Application Development
Smartphone applications provide the most innovative and efficient methods for engaging with both new and existing customers, encouraging them to make purchases, visit physical store locations, learn more about companies, and directly contact businesses.
From the palm of their hands, consumers can access real time data regarding ongoing promotions, business hours, and current inventory. These features also enable businesses to run more efficiently, especially those that have mobile workforces. Employees on the go can use mobile applications to access customer and company information in real time, providing fast and convenient customer service to clients everywhere.
Mobile Device Application Development for Every Industry
When working with a mobile application development agency that provides completely custom web applications, businesses within every industry can benefit in numerous different ways. The varying goals that different companies have for their mobile applications will determine which features should be incorporated within the design.
This is why Level9Solutions conducts an in-depth consultation with clients in order to comprehend how the apps could best provide value to the end consumers. For the retail industry, this may mean being able to easily display and sell inventory using a mobile application; for a service-related company, the app may need to make it easy for the company to contact technicians and transfer information. Clients in the medical industry have even had custom apps developed in order to securely store patient information. If you are interested in creating mobile apps for these purposes, or to meet any other goals, the mobile development experts at Level 9 Solutions are ready to assist you.
Understanding the Difference Between a Mobile App and a Mobile Website
When building a web presence for a business, developing a mobile website is often the first step. Mobile site development makes the content on your website more compatible across multiple devices. Mobile app development takes this increased functionality even further.
Mobile websites are great for making general company information available via iPhones, Androids, tablets, and other mobile devices, but mobile applications make it possible for customers and businesses to accomplish specific goals. Mobile application development is the preferable choice if you would like:
Increased Interactivity – Smartphone applications can be developed to allow users to interact and engage with the business. Some businesses will even launch their own games that customers can play.
Computations – Application developers can create applications allowing users to input and store data in order to generate sophisticated calculations, charts, or reports.
Offline Capabilities – As opposed to mobile websites, mobile applications can be designed to provide users with important information, even if there is no Internet connection available.
Specific Features – Most importantly, mobile application designers can customize apps in order to provide superior functionality and convenience when it comes to executing specific tasks that mobile websites would have difficulty accommodating.
To learn more about how your business can benefit from our mobile app development company, or to begin the application design process, call 1-800-548-2153.