Claim your $100 Google advertising coupon!
It's time to make sure potential clients can find you on Google! Google lets you publish text ads next to Google search results whenever a user is searching for your products or services.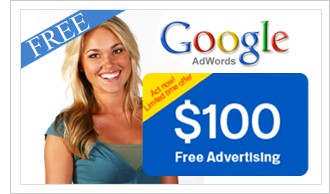 It's a great way to reach thousands of potential clients, at exactly the right moment, when they actively searching for your type of business!
We think AdWords advertising will benefit your business because of the following reasons:
Quick and easy.
Create your advertising campaign online within just minutes.
Get targeted traffic.
Your ads appear next to search results when a user searches for words of your choice.
If you are a florist in NY you can choose to show an ad next to the search "NY flower delivery".
Pay only for clicks.
You pay only when someone shows interest in you by clicking on your ad.
Control your costs.
You decide how much to pay per click, and determine your budget.
Enjoy Powerful reporting
AdWords lets you know your results at all times.
As we have discussed it throughout our website, effective Internet Marketing depends on a variety of factors, including Organic SEO and Pay-Per-Click Marketing. With the offer of this certificate, we can start you off with the PPC Marketing while we work to optimize your website for more effective Natural Search results. When you sign up for any of our SEO Services, you will be entitled to a $100 Gift Certificate towards advertising on Adwords. There are no further obligations on Adwords and you can cancel the Adwords account at anytime.
Start by completing the SEO Research form so we can learn more about your business.
---
Terms and conditions: Offer valid only for customers who sign up for our SEO services. Promotional credit would be applied after you spend the first $200 in advertising. Your use of this voucher and/or the promotional credit constitutes your acceptance of these terms and conditions. Offer void where prohibited by law. Expiration date varies