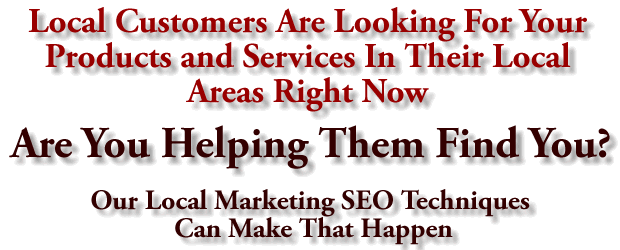 SEO For Local Business & Regional Search
Advertise your business with Bing, Yahoo! and Google local search features to maximize exposure for each location of your small business.
Affordable Local Business Marketing Services
Most people today don't use the printed Yellow pages to find local services or businesses; they use the Internet. They visit websites like Google, Yahoo!, Yellowpages.com, Superpages.com and others to look for local products and services. If your business or web site is not listed on these and dozens of other business directories, your customers will not find you.
However, the good news is that you can easily reach the people searching for your business, products and services online. Our Regional Search Optimization packages are for businesses who want to rank for keywords in their local area. Example, when people search for phrases like "Truck Accident Lawyer in Houston", you want your business listing to show up in the first few results. Most search engines recognize the geographic keyword modifiers like city or zip codes.
Remember, you want people to find your website when they search for your product or service you provide not just your business name. If people are searching for your product or service, they most likely don't know your business name already.
Local Business Marketing is the technique of increasing a website's search engine ranking based on Specific Location Indicators such as geo-tagging and location based search terms, like city and state names. zip codes etc. Local Search Optimization helps place local business websites in a search engines Local Categories, as well as helping them to rank within regular search results. The "big three" search engines (Google, Bing and Yahoo!) have all implemented sophisticated Local Search Databases to afford locally-based business owners maximum exposure to their market.
Local Business SEO Services are for generating leads, promoting your business online and helping your clients to find you before they find your local competitors. Consumers use the internet more than ever before to perform searches for products, services and businesses in their local area. If your small business is not Optimized for Local Search while your competitors are, your company will likely be passed over.
What are some Local Search Optimization Techniques?
There are a number of techniques that Local Search Engine Marketing Services or small business owners can employ when Optimizing a Small Business Web Site. The best Local SEO Services will combine a number of these techniques for a completely customized and comprehensive Web Strategy. Here are some of the best ways to increase your local search visibility:
Register your Business with Search Engines
If your website is registered with the three major search engines (Google, Yahoo! and Bing), and appropriately optimized, the potential for maximum exposure is drastically increased. Once you have registered, you will be able to edit your local listing or add new listings and keywords or new services.
Submit Your Site to Directories

Location based directories like Yelp.com, YellowPages.com and SuperPages maintain vast inventories of websites that search engines refer to for ranking information. When your site is registered with major directories, search engines have yet another place to reference your website. Links on these directories also lend credibility to your small business; which search engines deem very important.
Request Reviews
In general, the more reviews your business has, the greater relevance a search engine will place on your business website. You can start by sending review requests to your current clients. Simply include a link to a directory's review platform in an email to your satisfied clients. As a bonus, this is a great way to ensure you're successfully meeting the needs of your clients and glean information on ways to improve.
Optimize Organically
In some ways, Local Business Marketing works like any other search. Relevant Content is important. Be sure to include location indicators like city and state in your title tags and page headings. You'll also want to include your address (in crawlable text, rather than images) in a number of places on your website.
Regional SEO Services can appeal to your particular demographic and target audience while helping you rank above your most direct competitors – other local small businesses.
This may get overwhelming for most Small Businesses, because after all you need to focus on satisfying your customers rather than learning the peculiar nuances of the various aspects of Optimizing for Local Search. This is where we come in. We will help you navigate through all the complexities and take care of the technical aspects while you do what you do best – help your customers.
The Big Three in Local Search
Google Local Search
Google Local Search includes Google Maps, Google Places and Google Boost. Google Maps displays information on local businesses, generates maps and provides driving directions. Google Places for Business is a free local platform where businesses can register their site and promote their business online. Google Boost provides for PPC advertising with Google.
Bing Local Search
Bing Local allows business owners to submit their website to Bing Business Portal (formerly the Bing Local Listing Center), where businesses can claim and manage their local listing on Bing. This service is free and listings can be updated at any time. Like Google, Bing local search also utilizes a Maps feature where relevant businesses are featured.
Yahoo! Local Search
Yahoo! Local Search is comprised of two levels. The free level allows business owners to submit their business to the Yahoo! Local database. The enhanced version allows business owners to include advertising information like logos, photographs, or taglines.
If you have questions about Local Search or if you would like to request Local SEO Services, contact Level9Solutions today. We provide comprehensive and Ongoing SEO and SEO for Local Businesses at affordable rates.